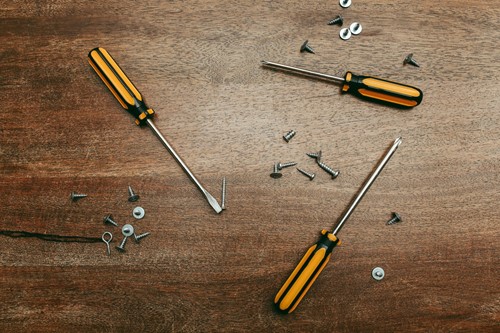 To stretch your crafting skills while saving money on home decor, consider DIY furniture for your living room. From benches to shelving to accent tables, there are many projects for DIY enthusiasts of all experience levels. Here's a guide for a new DIY hairpin leg coffee table to get you started:
DIY Furniture materials you'll need
Scrap wood or plywood cut to size (your choice)
Measuring tape
Metal hairpin legs (found online or from local hardware retailers)
Screwdriver and wood screws
Sander or sandpaper
Wood filler
Paintbrush
Paint or finish
DIY Coffee table: Step by step
The first step in this DIY furniture project is to clean and sand the plywood or scrap wood. Use either an electric sander or sandpaper to buff out any scratches and remove splinters.
Decide which side of the plywood you want to face up. On the back, measure and drill holes in each corner for attaching the legs.
Use the included brackets to attach the hairpin legs, applying clamps to hold them in place if necessary.
Flip the table upright and double check for any wobbling or unevenness in the table legs. It will be easier to fix mistakes before you've finished the wood.
Add a coat of wood filler to smooth out any existing knots or holes in the surface of the wood.
Once the filler is dry, add your choice of paint or wood stain. Allow it to dry completely before using the table.
Now you have a unique piece of stylish, modern DIY furniture for your living room. You can use this same method to create additional pieces to match. Try making a bench, stool, accent table or dining table. Experiment with different surface materials like concrete, marble, stone or metal. Just make sure to check the specifications on the legs before you start.
While the combination of natural wood and metal hairpin legs is peak mid-century modern style, there are no limits when it comes to DIY furniture. Consider these ideas the next time you want to craft something all your own.